HAPPY VIJAYA DASHAMI 2018!
Dear valued community members:
It is our great pleasure to invite you and your family to attend Durga Puja at Shree Pashupatinath and Buddha Mandir in Norwalk. Please join us to recite Durga Paath and offer Jamara Puja every morning from 7:00-9:00 AM and Devi Bhagwat Puran every evening from 7:00-9:00 PM. Feel free to contact us if you would like to sponsor the Durga Puja this year.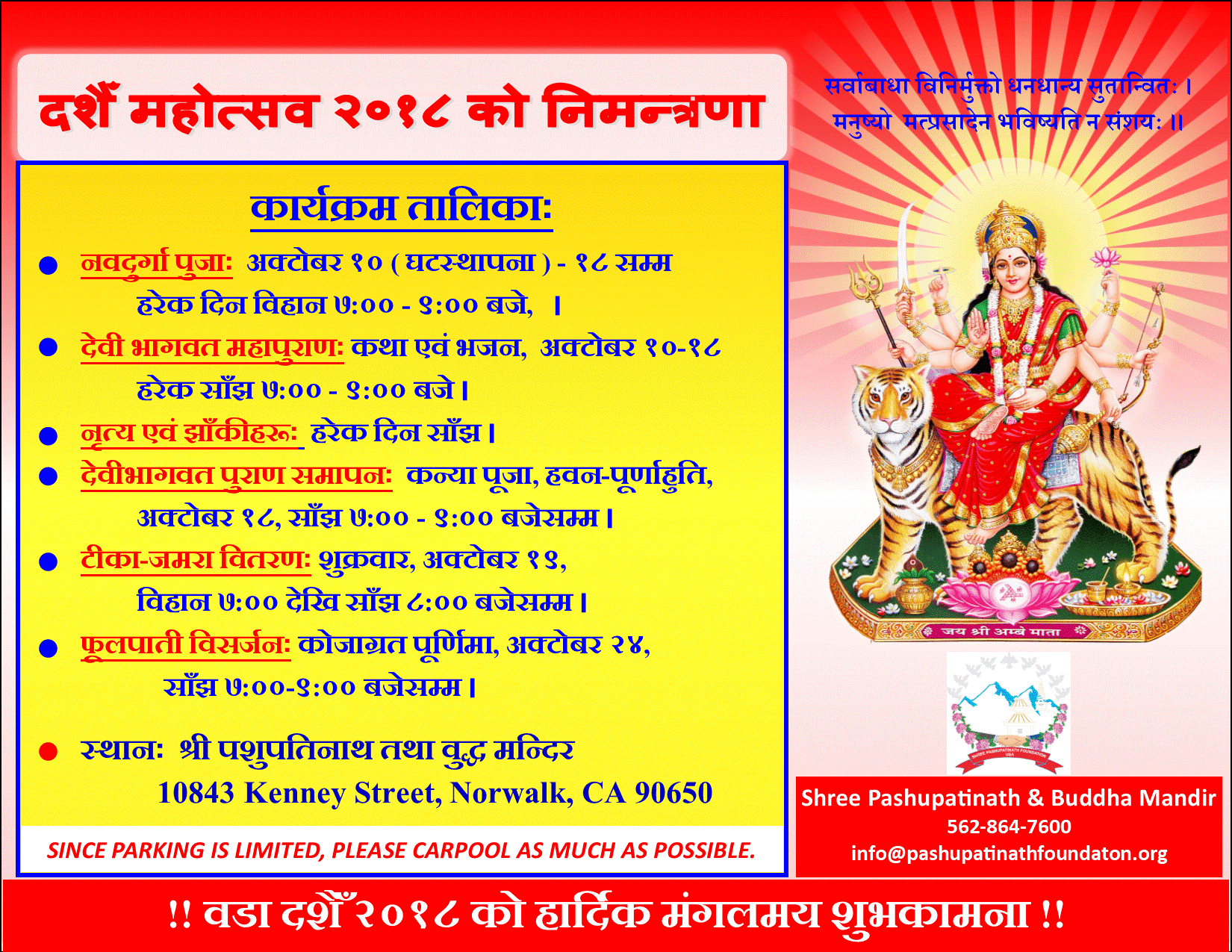 कार्यक्रम समय तालिका
1. घट स्थापना, शैलपुत्री देवी पूजा एवं भजन
बुधबार 10 अक्टोबर 7 – 9 AM
श्रीमद् देवीभागवत महापुराण कथा, भजन, नृत्य एवं झाँकी
हरेक साँझ 7 – 9 PM
_________________________________
2. ब्रह्मचारिणी देवी पूजा
बिहीबार 11 अक्टोबर 7 – 9 AM
____________________
3. चन्द्रघण्टा भगवती पूजा
शुक्रबार 12 अक्टोबर 7 – 9 AM
___________________
4. कूष्माण्डा भगवती पूजा
शनिवार 13 अक्टोबर 7 – 9 AM
____________________
5. स्कन्द माता भगवती पूजा
आइतबार 14 अक्टोबर 7 – 9 AM
_______________________________
6. कात्यायनी भगवती पूजा एवं भजन कीर्तन
सोमवार 15 अक्टोबर। 7 – 9 AM
______________________________________________
7. कालरात्री महाकाली भगवती पूजा & भजन (महासप्तमी-फूलपाती)
मंगलबार 16 अक्टोबर 7 – 9 AM
________________________________________
8. महा गौरी महालक्ष्मी भगवती पूजा & भजन (महाअष्टमी)
बुधवार 17 अक्टोबर 7 – 9 AM
_________________________________________
9. सिद्धिदात्री महासरस्वती भगवती पूजा & भजन (महानवमी)
बिहीबार 18 अक्टोबर। 7 – 9 AM
__________________________________________
10. देवीभागवत कथा समापन, कन्यापूजन, पूर्णाहुति & भजन
बिहीवार 18 अक्टोबर 7 – 9 PM
________________________________________________
11. वड़ा दशैं, विजया दशमी महाशक्ति पूजा, टीका, जमरा, प्रसाद वितरण
शुक्रबार 19 अक्टोबर 7 AM to 8 PM
_____________________________________
12. फूलपाती विसर्जनः
कोजाग्रत पूर्णिमा, बुधवार, अक्टोबर 24, साँझ 7-9 बजे,
बाजा-गाजा, भजन-कीर्तन, नाच-गानका साथ फूलपाती विसर्जन पश्चात महासागर स्नान गरि दशैँ महोत्सव सम्पन्न हुनेछ ।
श्री पशुपतिनाथ तथा बुद्ध मन्दिर